After this week's heavy post, I thought I should lighten it up a bit. I'm linking up with Ashley for Friday Letters. This week, I found some inspiration from my Google search terms.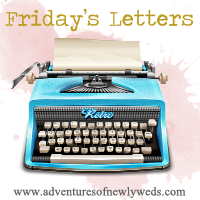 To the person looking up "I'm Jealous of my cat,"
I don't know how I can help you. My guess is you were directed to my post about being jealous
that my neighbors have a Schwans man
, or the post where
my cat pooped on my dogs new blanket
. Either way, I don't think this is what you want.
Dear "Christina Aguilera boobs/boobs falling out"
I have to apologize that you were directed to this corner of the interwebs. You must have been quite disappointed that I don't have any pictures of boobs, just complaints that Xtina can't find a properly fitting shirt when she judges The Voice.
Yo, "Noodles through a colander:"
I love Spaetzle. I hope you enjoyed
the recipe
. I think I want to make some right now. (Spaetzle is a German noodle dish. And it is fantastic.)
To the people looking up eggnog coffee cake, candy Christmas decorations, and Christmas ornaments:
It's July/August. 'Nuff said.
Handsome Olympians Collage:
I believe I have Googled the same thing.
You are welcome
.
One last letter:
Dear Summer
, slow the F down. Love, Casey