I can't believe I have been doing this for 6 weeks now! The time is flying by! As always, please click the button and read everyone else's confessions!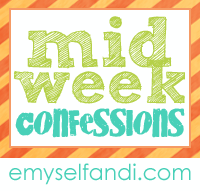 1. I have been loving the first two episodes of The Voice. I watched it last season and found it was just different enough from Idol that it kept my attention. BUT, can Christina Aguilera PLEASE find a shirt to contain her boobs. It is distracting when your ta-tas are falling out while you are talking.
2. Speaking of The Voice, don't Blake Shelton and Adam Levine make a yummy man sandwich?
3. Since I am all caught up on the Alex Cross novels and the Sookie Stackhouse series, I started a new one: The Stephanie Plum books by Janet Evonavich. I know that I am about 18 years late to jump on this bandwagon, but they are a really fun read. Funny, has some action, and easy to get through. These are a perfect spring/summer read.
4. I get really embarrassed when someone replies to an email I sent and I notice a ton of typos in my original message.
5. The Mister read through some of my old blog posts and my confessions. I can no longer get away with sleeping through my cat puking in the middle of the night.
6. I like watching college Jeopardy. I know some of the answers. I REALLY like it when it is high school Jeopardy. I feel like a genius then.
7. Somedays I wish my prep period was in the middle of the school day so I could take a power nap at my desk.
What do you have to confess this week?