PLEASE go over to e, myself, and I and read all of the confessions. You will feel better about all your quirky little things!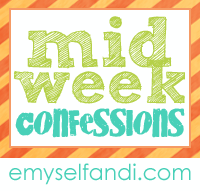 1. I love trashy novels. I just finished up the 11th book in the Southren Vampire Mystery Series. Those are the books True Blood is based off of. The only problem is I feel like I have to lie on my "What Am I Reading" poster up in my classroom.
2. Our meal plan this week looks like one of my middle school students wrote it: pancakes, grilled cheese and tomato soup, beans and fritos, and baked potatoes. I feel a little bad, but its all pretty yummy and easy to make, so I'm okay with it.
3. The Mister's birthday is Friday and I think I totally failed at his presents. I think both will be returned.
4. My classroom has an ant infestation. That in itself is gross, but some got into my microwave. Super gross. My confession is that I turned on the microwave to kill them AND they were still alive after a minute.
5. My cell phone is 4 years old. The Mister's phone is 6 or 7 years old. We are pretty cool.
6. I really want a Kindle or an iPad just so I can get a cute case from etsy then I could whip out the cuteness at Starbucks.
7. I am kind of turning into a hermit. Most times I would rather hang out at home then go out. Does that mean I am getting old? Or am I just boring?