It's Sunday, and I really like the subject of this week's Sunday Social: Books!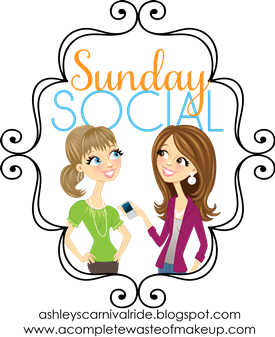 Favorite Childhood Book
I loved this whole series of books. Every time I open up a brand new tube of toothpaste I think of the part when Ramona takes the new tube of toothpaste and just squeezes it out from the middle. I always thought that would be really satisfying to do.
Favorite Book Lately
So good. A guys wife goes missing and he is the prime suspect. The book is told through his point of view, and then through the diary pages of his missing wife. And then it punches you in the throat.
Book you wish you could live in
Hands down I would be a student at Hogwarts. But I don't want any of the bad scary stuff. So I would stick with the Sourcer's Stone book, if I had to pick a single one.
If you could be any character from a book who would it be and why?
One of my favorite characters is Stephanie Plum. Being a bounty hunter would be an exciting job, her best friend Lulu is hilarious and her Grandma is also a hoot. (Really, did I just describe someone as a "hoot?" Plus there's Moreli and Ranger.
Favorite book turned movie?
Do you know what it's not a good book turned movie? One For The Money. That movie was terrible. Which I don't really understand why. It was a good story and had good characters. I blame Katherine Heigl. But, The Help was good.
Loved it! The movie was good, but obviously not as good as the book. But still it was such a good movie.
Favorite Magazine
A few months ago I got a Groupon for a $5 subscription to Cosmo. Yeah, I still haven't read any of them. Which is crazy, because I used to love it. I guess I'm just old now. The Mister and I have two other subscriptions: I have an e-subscription to Everyday With Rachael Ray on my Nook and we get a quarterly magazine about Oregon, 1859.
Any book suggestions for me?