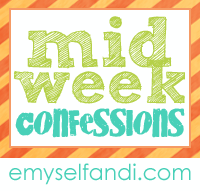 1.Just to warn you, I'm going to start with something knd of "heavy" for mid-week confessions (feel free to skip to #2): I get jealous. Not of other ladies and my hubby, but of other people's lives: their stuff, their babies, their houses etc. I know that there are other things going on that I don't see in their lives, but I sometimes I get upset that my life isn't more like someone else's or where I think I
should
be or what I
should
have. I try to remind myself of
this amazing blog post
, and I also remind myself of all the great things in my life. I know I am not the only one who struggles with this. End of "heavy" confession.
2. Guess who made the "hot teacher" list. Me! The list was found in a desk in an 8th grade English class. My confession is that this was probably the highlight of my
school year
week. I figure I only have a couple years left where I can make a list like that so I will just enjoy the fact I was on it.
3. I didn't really blog at all last week because of the sickness that made it so I didn't want to get out of bed, much less try to write out a complete sentence, so I didn't post my confessions. When I was feeling better this weekend, I did go through and read some of the posts that were linked up, but I felt funny about it, like I didn't pay my admission to the show or something.
4. I was kind of bummed my
pillow post
hasn't gotten the
comments
feedback like I thought it would. The Mister even called me out on looking at my stats after I posted it. You know that is bad when the hubby calls you out.
5. On Tuesday, it was supposed to snow hard enough that we might have a snow day or delay,and I prayed that we would have a full regular day. My prayers came true. I have not taught a full 5 day week in weeks now (that counts my being sick, holidays, budget cut days, grading days etc), and I totally notice a difference in my students behavior on "weird" weeks. I just really needed some normalcy in my classroom. Especially since spring break starts next week. Oy.