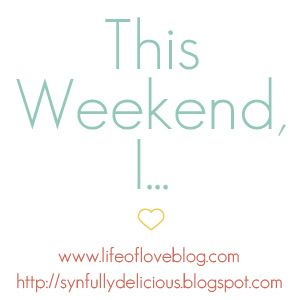 This w
eekend I
Sunday we...
went took advantage of the great weather and had a little picnic at the fishing hole. It is actually a little out of the way county park right on the river that isn't well known. We packed up a lunch and headed out there. After lunch, we played some bocce, and then took some time to read by the river. Fantastic.
Now let's take a look at something not so fantastic...
My goals from last week.
1. Drink a full water bottle at work everyday.
2. Have everything ready for the next day before I leave work.
3. 2 classes at the gym.
4. Go to Ulta.
5. Go to the bank.
Erika
called me out for putting "Go to Ulta" on my list. What can I say, I wanted a win :) I seem to have forgotten where my gym is, that must be why I haven't been there in a while.
Here are this week's 5...
1. Confirm with our DJ for the last two dances of the year.
2. Give the pets their flea medication.
3. Finish reading
Undead and Unreturnable
4. Go to one class at the gym. (baby steps people, baby steps)
5. Paint my nails.
Yes, these don't seem like the most challenging of goals this week. This week is the last week of the grading period, so I will be spending quite a bit of time at school grading and listening to kids' excuses on why they shouldn't be failing. (but seriously, my class is super easy. You shouldn't have an F any way.)
Have a great week! What are your goals for the week?