It's time for some confessin'!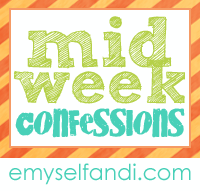 -I am addicted to TV on DVD. The Mister is too. We watched the entire series of Friday Night Lights in 4 weeks. That wouldn't be that bad if we didn't have to wait for 2 weeks for seasons 2-5 to be delivered to us from Amazon.
- Currently we are watching Parks and Rec on DVD. I have literally watched between 3-4 episodes a day since we got them. Including all the deleted scenes.
- I have taken down all the Christmas decor, BUT it is living in plastic totes that I still haven't taken out of the living room.
- I think I am getting the itch-- you know kind of like a very mild, non-contagious case of baby fever. The Mister and I are not really ready to have one yet, as we like to go on vacation and spend money on ourselves, but I am surrounded by newborns and pregnant ladies. I think I am feeling left out of the baby party.
- I got 3 different gift certificates for salons/beauty places for Christmas. Was I being sent a message?
- I must apologize to all the non-teachers reading this before I continue. I have only been back at work for a week and a half and I am already counting down to spring break. At least Monday is MLK Jr. Day.
- I am a health teacher and right now I am in the middle of teaching 8th graders all about eating healthy. In my head, all I can think about is eating cheese pizza. And washing it down with some chocolate milk.